REBOUND BASIC INSTRUCTOR CERTIFICATION / FORMATION DE BASE DE REBOUNDING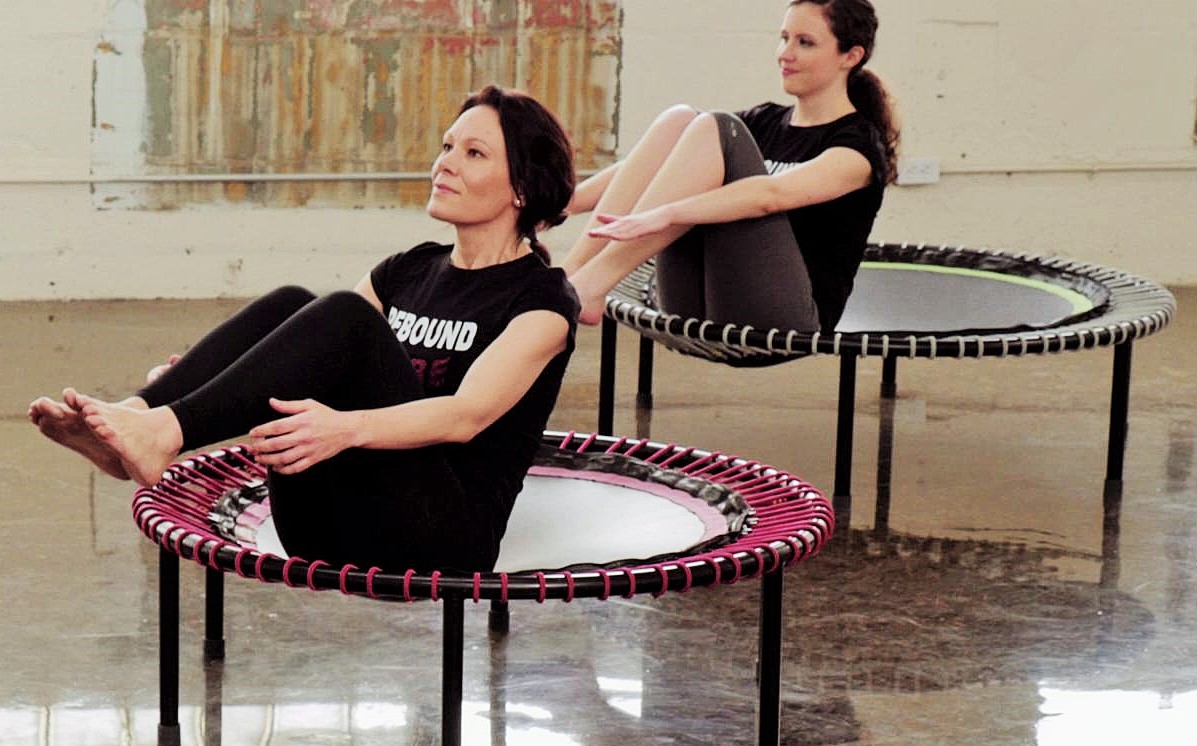 REBOUND BASIC INSTRUCTOR CERTIFICATION / FORMATION DE BASE DE REBOUNDING
ENG - Sat & Sun August 26 and 27 from 1PM - 7PM. Are you looking to add rebounding classes to your gym or studio, or simply looking to teach rebound classes independently? This instructor training certification course is designed to teach you the science behind rebound exercise and to provide you with all the tools necessary to lead a fun yet challenging rebound class. The training is divided into two sections: Theory and Practice, each of which must be successfully completed in order to receive your certification. A minimum of 20 Rebound Fitness classes must be taken as part of the practice round following the training.
Pre-requisites:
* Must hold a current certification in Yoga, Pilates, Dance, Zumba, Group Fitness or Personal Training
OR
*30-hour attendance in Rebound classes with a Rebound Master Trainer. Please note that you may still sign up even if you have never attended a Rebound class. You will however be required to complete this pre-requisite plus an additional 20 classes (50 in total) before receiving your offical certification as a certified Rebound Instructor.
Cost: $399 - Includes 12-hour weekend course training, course material, written exam evaluation, practical exam evaluation
Cancellation and refund policy: To obtain a full refund, all cancellations must be made no later than Sunday August 19, 2017 (1 week before the instructor training). All cancellations made after the 19th of August will give you a full credit towards the next certification.
Questions?: Call us at 514 225 2167 or email us at info@reboundfit.com
_____________________________________________________________
FR: - Samedi 26 et Dimanche 27 Août 2017, de 13h à 19h. Souhaiteriez-vous offrir des cours de trampoline dans votre gymnase/studio, ou désiriez-vous simplement offrir des cours de façon indépendente? Cette formation d'instructeur de Rebound vise à éduquer les participants sur les nombreux bienfaits scientifiques de l'entraînement sur mini trampoline ainsi qu'à leurs fournir tous les outils nécessaires pour mener un cours de groupe aussi amusant que stimulant. La formation est divisée en deux sections: la Théorie et la Pratique, dont chacune doit être complétée avec succès afin de recevoir la certification. Un minimum de 20 cours de Rebound doit être pris dans le cadre de la pratique suite à la formation.
Conditions préalables:
*Détenir une certification au Yoga, Pilates, Entraînement de group, Danse Zumba, ou Entraîneur personnel
OU
*Avoir suivi au moins 30 cours de Rebound avec un Master Trainer. Veuillez noter que vous pouvez vous inscrire à la formation même si vous n'avez jamais pris de cours de Rebound. Vous aurez toutefois à prendre les 30 cours prérequis ainsi que les 20 supplémentaires (50 au total) avant de recevoir voir certification officielle en tant qu'instructeur de Rebound.
Coût: 399$ - Comprend un weekend de 12 heures de formation, le matériel de cours, l'évaluation de l'examen écrit, l'évaluation de l'examen pratique
Politique d'annulation et de remboursement: Pour obtenir un remboursement complet, toute annulation doit se faire au plus tard le Dimanche 19 Août 2017 (une semaine avant la formation). Toute annulation faite après le 19 Août vous donne un crédit intégral à utiliser vers la prochaine formation.
Questions?: Appelez-nous au 514 225 2167 ou envoyez-nous un courriel à info@reboundfit.com